Facilities
As winter swimming comes to an end and the water starts to warm up, we're now looking ahead to the upcoming summer season. Last year we saw a surge in swimming demand and met many faces both old and new. Over the last few weeks, we have been carefully looking at our procedures and guest experience to try and offer a better service to all of our swimmers.

As part of our safety review, we have decided to enforce NOWCA memberships. All swimmers from the 6th of May must be a NOWCA member to swim at our sessions.
NOWCA membership has many benefits including discounts from Swim Ears, Huub and Swim Secure. Additionally, by being a member, you unlock access to NOWCA Protect, NOWCA's brand-new member insurance.
Existing/ Old Members
Your NOWCA wristband is for life!  If you still have one, just login to ACTiO using your email and password and renew your membership by paying the annual fee and your band will automatically reactivate.
Come down to reception and purchase your swim credits. If you can't remember your membership details or have closed your account, please contact NOWCA for further help via their Support Centre
New Members
New to NOWCA? For the price of one cup of coffee a month, you can join the NOWCA network, unlock lots of Perks, and access lots of different swimming venues up and down the country, including us!
During the signup process, click "Cliff Lakes" as the band pick-up location, then pay your annual membership fee and you are good to go. Please note that bands can ONLY be collected during swim sessions.
When can you collect your band?
Bands can be collected during swim sessions from Saturday 29th April.
How else will this benefit you?
Speed, Speed, Speed
We are trying to streamline your check-in time so there will be no need to visit reception unless you need to purchase credits or purchase something from our shop. Bands can be topped up via our online booking system (please allow 24 hours for this to process onto your NOWCA account) or in reception during swim sessions. With us moving back to a tap-in/ tap-out system we believe this will speed up the time it takes for you to get from the car to the water.
Car Parking
As always car parking is free to all Cliff Lakes customers to avoid you having to enter reception once a year on the 1st of April you will need to submit your number plate which will validate your parking until 31st March 2024. Once you have done this, you won't need to worry about submitting your car registration each time unless you change your car.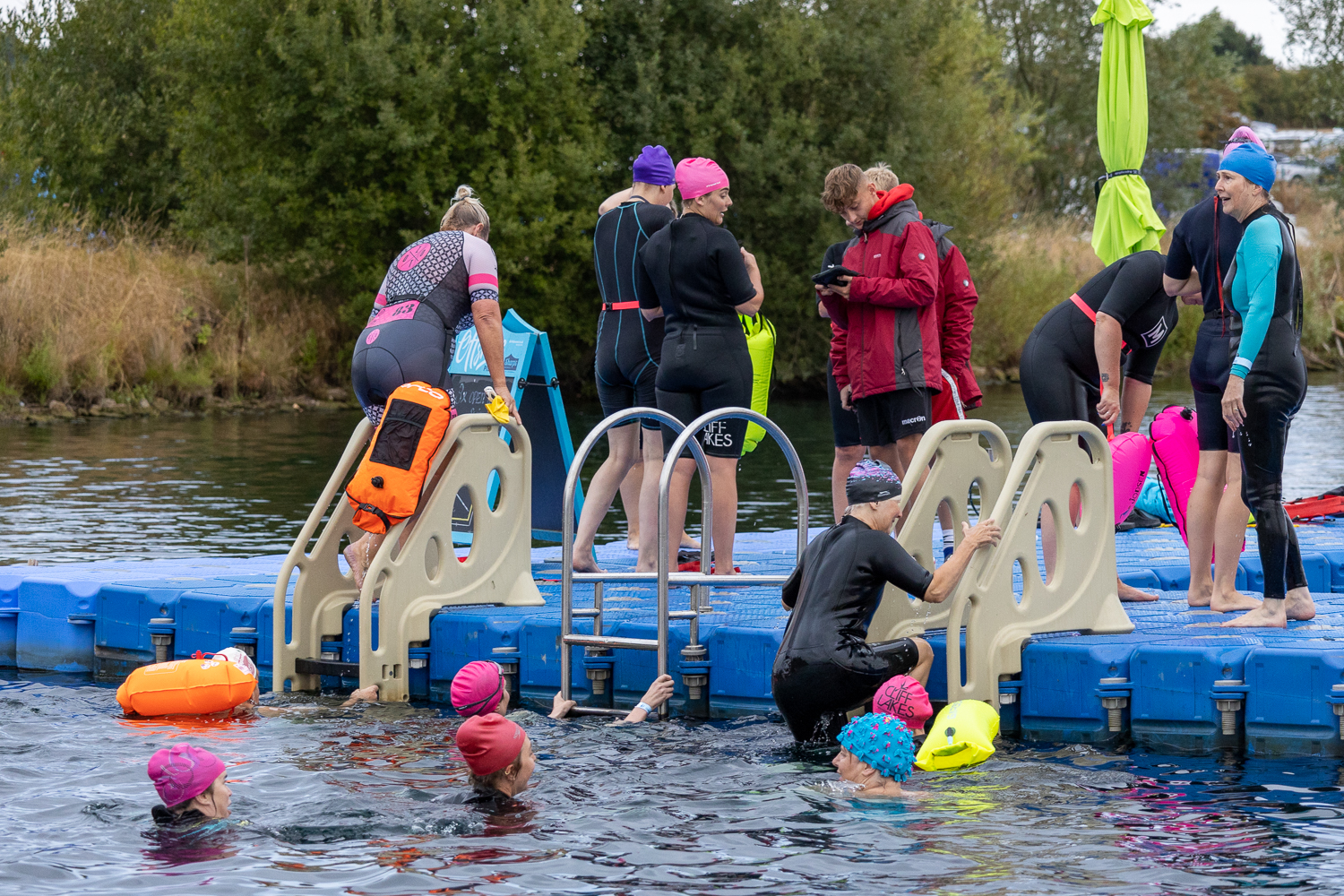 Swim Sessions
This year we are offering even more swim sessions!
Wednesday (Starting on the 24th of May): 17:30- 19:30
Saturdays (Starting on the 6th of May): 08:30 – 10:30
Swim Events
Following last year's award-winning Ladies Only Swims, we will continue these sessions from July.
Night Swims
Facilities
As always, we work hard in the background to improve our offering to our customers. This year we have decided to take away our free swimmer's tea and coffee and open the BluWater Parlour for all our swim sessions. Additionally, the food bar will be open, so you can grab some food after your swim!
Pricing
We have decided to hold the price of our swim sessions for the 2023 season; we have now added a bulk buy option.
1 Swim Credit – £7.00
10 Swim Credits – £60.00
Tow Float (Non-Members) – £25
Tow Float (Members) – £15

Safety
As always safety is number 1 and we boast about safe play while enjoying any of our activities. Our safety policy still remains the same:
All participants must be 10 years and above. Participants aged 15 years or under must swim with an adult over the age of 18.
Swimmers must wear a brightly coloured hat swim hat.
Swimmers must wear a tow float if they decide to swim non-wetsuit
Participants must wear a tow float if they choose not to wear a wetsuit or if they are swimming in the lanes.
We encourage first-time beginners to take part in an introduction course before swimming in our Open Water Swimming sessions.
From the 6th of May, we will no longer hire tow floats as many have gone missing over time and we can't afford to keep replacing them. We do sell Swim Secure Tow Floats; for members these retail at £25 to non-customer